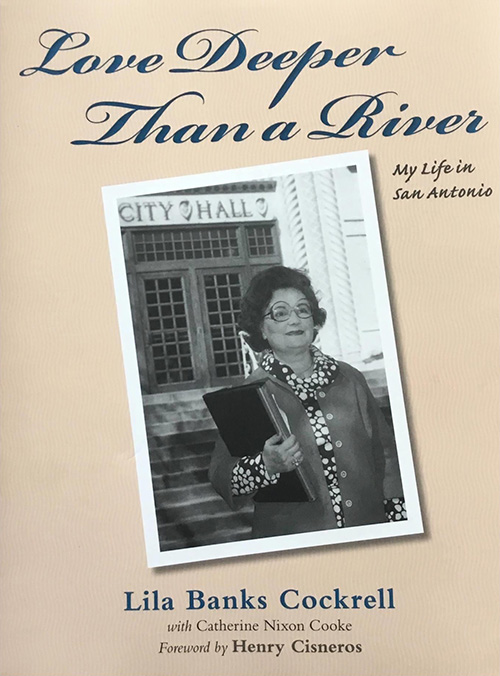 Love Deeper Than a River
(Trinity University Press, 2019)
When 97-year-old Lila Banks Cockrell died in 2019, she had been an important voice in San Antonio's politics and public life for more than six decades. The first woman to be elected mayor of a major U.S. city, she was born in 1922 and was a member of the much-admired "Greatest Generation" of Americans who oversaw major changes and progress in this country. She came of age during Prohibition and the Great Depression, joined the WAVES in World War II, and participated in the burgeoning civil rights movement of the 1950s and 1960s—experiences that influenced her political views and sparked her passion during the early days of the Women's Movement. Catherine Nixon Cooke collaborated with Cockrell during the last year of her life to create a memoir that captures the former mayor's bold trajectory to leadership and the myriad of accomplishments that resulted from that leadership. Also at the heart of the book is a personal and multifaceted love story—one that shares Cockrell's devotion to country and community; her powerful connection to her mother and grandmother, both strong and independent women; her deep and lasting love for her husband; and her own special formula for achieving consensus through open debate, always conducted with civility and respect for all concerned.
"The perfect book for a new generation of civic leaders, an intimate portrait of a real consensus builder—something this world needs desperately in its modern political arena. Catherine Nixon Cooke captures Mayor Cockrell's multi-faceted voice and persona perfectly; and her sensitivity to both history and human nature have created a unique memoir of a ladylike figure who was not daunted by the rough and tumble of politics."
—Henry G. Cisneros, former U.S. HUD Secretary
"This is a book about politics, but also a book about family. It's no stretch to call it a sweet love story."
—Robert Rivard, The Rivard Report
A Trinity University Press top reading list pick for 2020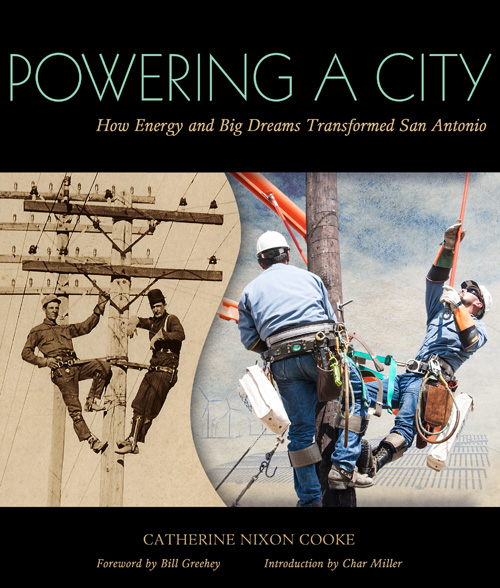 Powering a City: How Energy and Big Dreams Transformed San Antonio
(Trinity University Press, 2017)
This riveting history of the power industry stretches far beyond its San Antonio setting, where CPS Energy currently operates as the largest municipally-owned gas and electric utility company in the nation. Edison's invention of the filament light bulb, the discovery of natural gas, the impacts of the great Depression and World War II, the rise and fall of giant utility holding companies, the energy crisis of the 1970s, and development of renewables are all part of this book's bigger story. The colorful characters that inhabit its pages add human drama to that story—some in the public spotlight, others living more ordinary lives—harnessing their dreams to power San Antonio's journey from a dusty, dark frontier town to the seventh largest city in the United States. Some of those characters include early Texas gunman Ben Thompson, hotelier and brewery master William Menger, aviatrix Katherine Stinson, Teddy Roosevelt and his Rough Riders, President FDR and his political reformer Harold Ickes, baseball great Dizzy Dean, construction kingpin H.B. Zachry, oilman Oscar Wyatt, two former U.S. HUD Secretaries—Henry Cisneros and Julian Castro—and Paula Gold-Williams, the innovative president and CEO of CPS Energy who is guiding the industry into the future.
Featured presentation at the 2018 San Antonio Book Festival
San Antonio Conservation Society Publication Award , 2017
"Catherine Nixon Cooke has done a remarkable job of turning facts and names into an entertaining story. Complete with rare and lively illustrations, this book fills an important gap in the city's historical works."
—Lewis F. Fisher, historian and author of Maverick: The American Name that Became a Legend
"Powering a City is indispensable reading for anyone deeply interested in the life of San Antonio—and its future."
—San Antonio Express News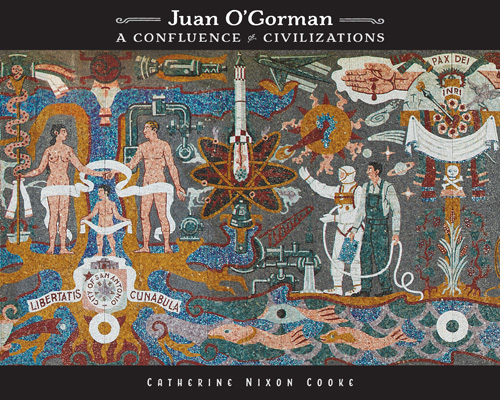 Juan O' Gorman: A Confluence of Civilizations
(Trinity University Press, 2016)
From his childhood in Guanajuato during the Mexican Revolution, where love of the land was nurtured by a patriotic grandmother, to the powerful influences of a strict Irish father and a mother's devout Catholicism, Juan O'Gorman harnessed his diverse cultural background to create murals, paintings, and buildings that remain spectacular examples of mid-century Latin American art. A lifelong friend of Frida Kahlo and Diego Rivera, he designed the couple's famous Casa-Estudio in Mexico City, built his own legendary "cave house" in the volcanic rock of El Pedregal, and created the largest mural in the world at Universidad Nacional de Mexico. This book documents his works in Mexico and beyond, including the "Confluence of Civilizations" mural designed for the world's fair in San Antonio, Texas, as well as offering personal insights into the complex man behind the art and architecture he created.
Featured presentation at 2017 San Antonio Book Festival
San Antonio Conservation Society Publication Award, 2016
"With an extensive bibliography, excellent index, and a lyrical narrative style that draws the reader into every facet of O'Gorman's rich and complex life, the book strikes many confluent chords that will resonate in the hearts and minds of readers on both sides of the US-Mexico border."
—San Antonio Express-News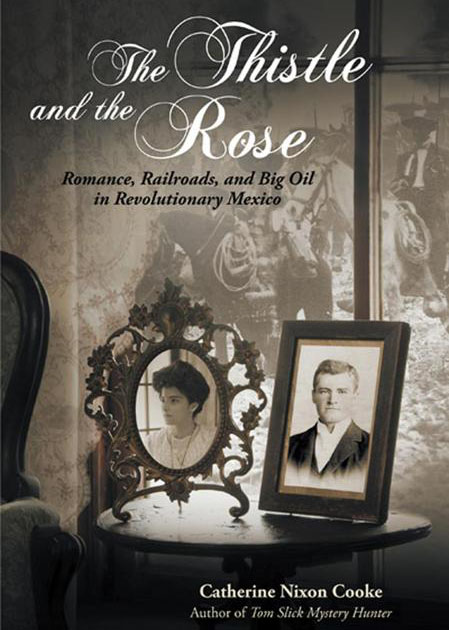 The Thistle and the Rose: Romance, Railroads,
and Big Oil in Revolutionary Mexico
(Corona Press, 2010; IUniverse, 2nd edition, 2011)
A handsome Scotsman and a beautiful Oaxacan woman in love, the almost impossible challenge of building the famous Tehuantepec Railroad across the malaria-ridden isthmus of Mexico, the discovery of the second largest oil well in the world in 1910, a chilling encounter with the bandit-general Pancho Villa, and a revolution raging from the northern deserts of Chihuahua to the mountains and jungles of Oaxaca are all part of a family saga that transports readers across continents and cultures. It offers a unique glimpse of early 20th century Mexico that is historically accurate, action-packed, and imbued with the complexities of that wondrous land. Based on personal papers and photographs preserved by the Nivon and McNab families, interviews and research conducted by the author in England, France and Mexico, and rare historic texts, The Thistle and the Rose is a dramatic true story about love and courage in revolutionary Mexico.
"Like a masterful snake charmer, Catherine Nixon Cooke weaves a tale of big love, big oil, and big ideas in this fascinating story of adventure and romance that sweeps through Europe, Mexico, and comes to rest in San Antonio, Texas, where the story continues."
—Jan Jarboe Russell, author of The Train to Crystal City
Honorable Mention Winner, New England Book Festival, 2010
Featured Panelist Participant, Texas Book Festival, 2011
I love working with families on their personal memoirs—conducting interviews and delving into their collections of diaries and photographs to write their stories, then collaborating with my colleagues at Seale Studios on graphics, production, and printing to create beautiful private books that ensure an enduring legacy for generations to come. Use the Contact Form if you would like to discuss creating your family memoir.